58: What Eurovision taught me about product management
For a glitzy song contest, Eurovision has a lot to answer for.
There is a product management angle to this post. Eventually.
The annual Eurovision Song Contest is somewhat of an institution over here. It has brought special moments to our television screens, such as:
inexplicable pratfalls by dancers,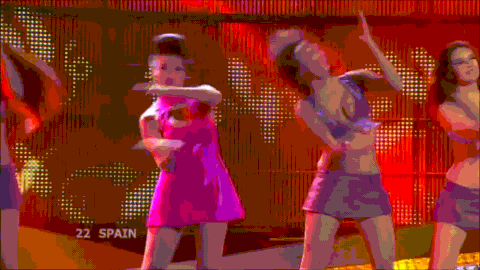 some non-traditional Polish milk churning,
and who can forget these monstrous Finnish metalheads?
Worst of all, Eurovision is responsible for these horrors:
The product management angle #
Oh all right, then.
Embrace the unexpected #
The Eurovision Song Contest was initially conceived as an attempt to unite post-war Europe throught the power of music. What L'Union Européenne de Radiodiffusion didn't necessarily expect in 1956 was that their high-minded competition would end up being used by some as a superlative drinking game:
Whatever keeps the viewership up, I guess.
So when people are using your product in unexpected, but ultimately beneficial1 ways, don't get too hung up about it. Figure out how to take it further.
Don't copy your competitors #
Pop Idol, the X Factor and the Voice may also be singing contests and have mixtures of jury and public voting, but they ain't no Eurovision. They'd sell a kidney for a global audience of 200 million people.
Just because your competitors are superficially doing the same thing as you, it doesn't mean that your product is fulfilling is the same market need as theirs.
Break your own rules occasionally #
Eurovision. Euro-vision. EURO-vision. Then in 2015 they let Australia – where they go crazy for Eurovision – join in.
Hell, why not? Israel, Russia and Azerbaijan aren't exactly part of Europe either. I suppose you can add the United Kingdom to that list as well, soon (natch).
Who says you can't break the rules with your own product? Particularly if doing so brings you more business…
Clever tech ain't the point #
In 1956, there were no TV satellites to relay signals around the world. The European Broadcast Union had built a terrestrial microwave network to broadcast across Europe, and the Eurovision Song Contest was itself an experiment in broadcasting live television over this wide area network.
The thing is, although technology enabled Eurovision to happen, people were not tuning in to marvel at this novel feat of broadcasting. It was always for the music.
Don't forget that people rarely buy your products for their clever tech, but for what the products enable people to do. Focus on that.
Rehearse, rehearse, rehearse #
Eurovision these days MOSTLY goes without a hitch. Although it comes across like a 'big bang' event on the day, everything has been choreographed, practiced and rehearsed countless times before the live broadcast to shake out the inevitable gremlins in the system.
It's still a risky affair, but that's the nature of staging such a massive live event.
At least us product managers can avoid 'big bang' product launches because we're all agile now. We can pull apart and test all of the risky bits of our product before putting it near a large audience. That's what iterative user research means.
What do you mean, you still do big bang launches without rehearsing …?
Recap #
It's okay for people to use your product the way they want to
Your competitors are usually solving a different problem to you – don't copy them
Know when to break your own rules
People don't really care about the tech
'Big bang' product launches are risky as hell – research, test, rehearse
BONUS: I could totally pack in product management and become a singer #
(Normal service will be resumed next post…)
---
Get articles when they're published
My articles get published irregularly (erratically, some might say). Never miss an article again by getting them delivered direct to your inbox as soon as they go live.